Loma Linda University Medical Center
California, USA
Loma Linda University Medical Center
California, USA
In 1994, California passed Senate Bill 1953, which mandated stricter seismic safety standards for hospitals. The bill requires that hospitals be able to not only withstand a major quake but also continue to provide services in its aftermath. This helped put into motion a project to replace the existing Loma Linda Hospital with the $1.5 billion dual-tower Dennis and Carol Troesh Medical Campus.
Envisioning two healthcare buildings—a tower for children and another for adults—, architect NBBJ teamed with engineers Arup and Stantec, as well as builder McCarthy Building Co., to design towers that could withstand earthquake damage and continue operations during and immediately after extreme seismic activity.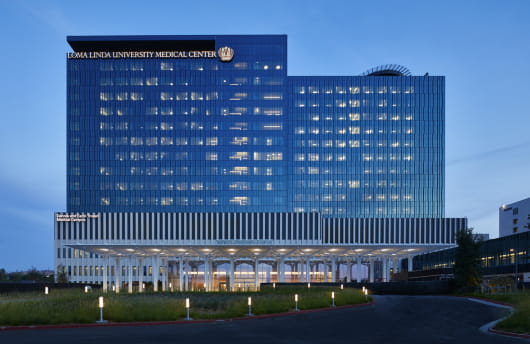 The result is an unmatched engineering marvel. The shared five-story podium that serves as the base of the two towers can move six inches vertically and up to 42 inches laterally without suffering structural damage.
To accomplish this feat, engineers from Arup incorporated a seismically base-isolated structural system to effectively decouple the buildings from the ground beneath them. An assembly of 126 individual base isolators that use triple friction pendulum bearings allows horizontal movement, while 104 fluid viscous dampers act like shock absorbers to reduce energy transmission from the ground to the building. A "dry moat" surrounding the building gives space for the structure to remain stationary as the ground moves around and beneath it.
Large-scale expansion joint systems from Construction Specialties were designed and installed on the pedestrian bridge connecting the adult and children's towers, allowing the structure to move adjacent to the building. Even if the buildings are moving, people can safely pass through the bridge corridor.